What gives this new Graco baby swing an advantage?
Graco just released this great new baby swing. I was so intrigued because I wanted to see what features it would have. And although I was concerned about it being just another baby product, I was not disappointed!
The Graco Duet Sway Swing with Portable Rocker takes the best of a bouncer chair and a compact swing and combines them. The result is a lightweight and easy to use baby soothing miracle machine. And all for a downright low price.
Removable Rocker
Even though this is a swing, I feel like it makes the most sense to talk about the rocker first. Then a lot of the swing stuff will make more sense.
The seat of the Sway swing is actually a removable rocker that can be used alone or with the swing base. The cozy seat fits babies up to 18 pounds and 27 inches long.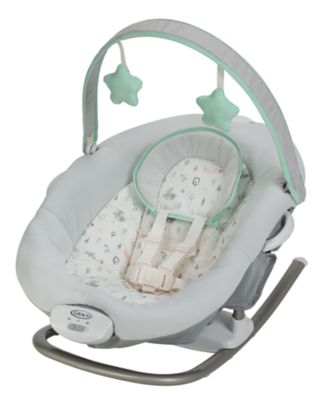 And the seat truly is cozy- it has plush softgoods (aka a cuddly soft seat cover) and a lovely little plush infant pillow for those newborn nappers. You can machine wash the seat cover and air dry it. This is a must, since the light colored fabric might be prone to showing every little spill or stain.
But back to that amazing portability. You can click the rocker out of the swing by squeezing the levers and lifting it up and out. Just like a car seat and base. The rocker can go with you all around the house to help keep baby happy. The easy carry handles make it less awkward to carry about.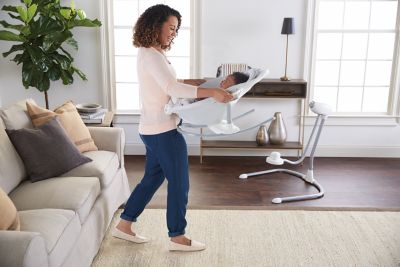 The seat has everything it takes to calm a fussy baby. It has a gentle rocking motion that can be engineered by you or by your wiggly baby. It also has a two speed vibration setting. You can get just the right movement to lull baby to sleep.
And if baby won't sleep, they can play with the attached toy bar. It's a soft and flexible toy bar that clicks into the seat at the top on each side. It can sit up high, or it can be moved down for baby to actually grab and play with. It comes with two plush stars for baby to grab. If you want to update the toys when baby gets older(and you will), you can just add toys using plastic links.
The seat also features a 5 point safety harness to help keep baby contained. But with the 3 settings on the seat recline, they might just want to stay in the seat, especially if they can sit up and see everything.
Sway Swing
The main focus of the Duet Sway is the swing. It is made for babies all the way up to 25 pounds and 30 inches. That means you can get a lot of use out of it for that first year and a little beyond. And that matters, since swinging mimics carrying motions and can calm baby.
The swing is really unique because of the way it works. It has a standing, stationary motor that holds the swing seat/removable rocker. This motor housing is compact, and the motor is quite silent.
The swing moves in 2 directions: side to side and front to back. But it's not the motor that changes directions, it's the seat. You dock the seat back into the swing in one of 3 configurations:
Facing forward, for a side to side swing
Facing left, for a regular front yo back swing Facing left
Facing right, for a regular front to back swing Facing right
This wonderful design saves space by having two swings in one. It also allows the swing to be placed against the wall without worry of knocking into anything.
Another fabulous feature is the adjustable speed of the swinging motion. You can swing very gently for newborns, or swing a bit more strongly for older babies. I found with my daughter that as long as she was noticeably moving, she wouldn't cry. So this feature gives the seat some added use that grows with the baby.

Features to Love
What parent doesn't love portability? Well this swing's got it. The removable rocker gives you a lot of portability within your own home. You don't have to worry about being trapped in one room while baby sleeps, since you can just click out the rocker and take your sleepy little somebody with you.
But beyond that, the swing itself is pretty portable. It weighs just over 17 pounds. That's not bad, considering that it has a solid metal frame. And if you recline the seat completely flat and take the legs off of the swing frame, you could pack it up for a trip with ease.
The swing runs on A.C. power, which I love. I hate worrying about batteries. Nothing is worse than having batteries die mid-nap, resulting in an awakened and cranky baby. As long as you can park the swing base near an outlet, it's wonderful.
The bouncer is battery powered (1 D battery). Since the vibration doesn't require as much power, the batteries last longer. The seat also retains maximum portability since you don't have to worry about being next to an outlet.
The way this swing works is just fantastic. You can swing front to back or side to side without taking up the entire room. Some days, the difference in movement might mean a difference between a long nap and a non-existent one. And if that doesn't work, you can try a nice rock in the rocker. The combos of movement are as changeable as your baby!
The final thing to love is the price! It's quite the inexpensive swing when you consider that you are actually getting both a rocker and a swing in one!
Things to Consider
The good definitely outweighs the bad with this swing. But just so that you are an informed consumer, here are some things that you might not like about this swing.
Low to the ground. Yes, it's compact, and that's nice. But it sits really low to the ground and can put a strain on your back if you are bending over so low all day to get baby in and out of this thing.
Unbalances easy. I've noticed that if baby isn't in the center of the seat and docked correctly, the swinging movement is uneven. That worries me- I don't want the machine to tip over, and the grinding on the motor can't be good.
Fabric is light colored. This is a personal thing, but light colored fabrics stain so easy! Even with machine washing, you'll probably notice that the seat material will begin to look dingy after a couple of months of use.
Seat sized small. The seat itself is decently sized, but the safety harness is really small. Especially in the crotch buckle area. It sits too close to the back of the seat and can't be adjusted. I feel like it cuts into baby's legs.
Difficult assembly. The directions aren't super clear when it comes to assembling this thing. I didn't even know it needed to be assembled! All it really needs is a few screws put into place, but you'll have to rely more on your common sense than on the actual instructions.
Toy bar goes on the fritz. It likes to fall down, fall out, and refuse to click in. But since it's kind of boring anyways, just give your older baby a toy to hold onto.
What About the Duet Sway LX?
A deluxe version of this swing exists, and it's even more superb. The Graco Duet Sway LX Swing with Removable Bouncer has some awesome changes and upgrades:
Sounds. For those of us who were wishing that the swing could make nature noises or play songs- well now it can. The LX features 6 songs and sounds to help soothe baby.
Bouncer. That removable rocker? It's a removable bouncer now. The rocking legs get upgraded to springy metal kegs with the Graco Duet Sway LX Swing with Removable Bouncer.
Better toy bar. The toy bar gets a major upgrade in the form of an easier attachment and better toys. There's also one more dangling toy.
Infant insert. The little infant pillow gets upgraded to a soft, full-body infant insert. Baby is sure to be soft and cozy.
This awesome LX model does come at a higher price. But, the price difference between the regular and the LX isn't very big at all. You'll get a bouncer that's totally usable on its own, complete with sounds, toys, and a comfy pillow. Plus you can still use it in the swing. That's an even better 2-for-1 deal and is completely worth the upgrade, in my opinion.
Customer Reviews
Reviews are still coming in! But from what I can tell from the existing reviews, it should be about a 4.5 star product!
Pros
Rocker and swing in one
Compact size needs less space to operate
Adjustable swing speed and direction
AC adapter saves money on batteries
Toy bar and vibration for baby
Soft, machine washable fabrics
Great price
Cons
Sits low and can become unbalanced
Light fabric shows stains
Crotch buckle makes harness small
Hard to put together
Conclusion
I am digging this new swing from ever-better Graco! I love most of their products, and I love this swing. It can move in two different directions, it doesn't take up much space, and it can live against a wall (near an outlet!). The seat doubles as a rocker, so you're actually getting two pieces of baby gear in one. It's seriously soft, easy to use, and looks adorable.
The only thing I don't like is the tendency to become unbalanced and the fact that assembly is a pain. But since you only have to assemble it once (unless you travel with it a lot), and the balance thing is easily fixed with proper baby placement, those aren't deal breakers. And you have got to love the reasonable price!
All in all, the Graco Duet Sway Swing with Removable Rocker is great, especially for someone with limited space and limited budget.
I think the Graco Duet Sway LX Swing with Removable Bouncer is even better. It's worth the extra few dollars to get a better bouncer, complete with better movement, better toys, and sounds. Whether you get the regular Duet Sway or the Duet Sway LX, you'll be happy with your quality purchase.